A Beginner's Guide to Craft Beer
In recent years, the craft beer and microbrew industries have been exploding.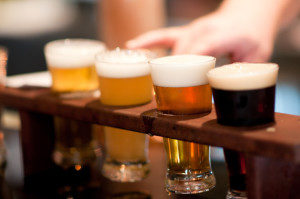 Beer drinking has become a respectable hobby, and everyone is having fun exploring the wide variety of styles.
So if you're craving something more than a Bud Light, you may be wondering how to start getting into craft beer. The best way to do this is to drink more of it.
It may sound obvious, but hanging around friends that drink craft beer and attending tastings are how you will be best able to find out what you like. You may need to acquire a taste for certain types of beer. Others, you may like right away.
There are two basic types of beers: lagers and ales. Lagers are the bottom-fermented beers that you are probably already familiar with, including Budweiser, Coors, Corona, etc. Ales are top-fermented, and are typically darker in color than lagers.
Since lagers have a large share in the macrobrew market, there are fewer craft brewed lagers than ales. Popular craft lager types include pilsners, dopplebocks, and porters. For those who have only had lagers up until now, craft brewed lagers are a great place to start. Next time you're at a liquor store, bar, or restaurant, ask for a recommendation of a craft-brewed lager. Once you find one you like, you can expand your sampling based on what you know you like.
Ales are abundant in the craft beer world, so it can be difficult to know where to begin. Consider the types of beers you have had before and which ones you liked best. Blue Moon is a popular craft brew that is on tap at a majority of bars and restaurants. Like its competitor, Shock Top, Blue Moon is a wheat beer. If you like these types of beers, then go after other wheat beers. There are so many wheat beer variations that you'll have plenty to explore even if you just stick with this one type of ale. Wheat beers are top-fermented beers made with (you guessed it) wheat. They are brewed with Belgian or German style flavorings, such as coriander and orange. Wheat beers often have a fruitier flavor, and are great for people that are just starting to enjoy beer and prefer lighter brews.
On the other hand, if you're a fan of Guinness, then you might want to try craft brewed stouts. Stouts are darker, heavier beers that typically have a higher alcohol percentage, and are made with roasted malt or barley. There are so many different types of stouts that there is surely one for you. Flavors like milk, chocolate, coffee, and oatmeal are commonly found in stouts. If you like drinking black coffee, a coffee stout may be the perfect avenue for getting to microbrewed stouts.
Of course, there are so many other different types of beers in between the lightest and the darkest, but these are just a few examples of where to begin.
Salem Cross Inn invites you to try a new craft brew at our restaurant. Our staff can help you find just the right beer for your tastes. We stock all types of different beers, so there is sure to be one that you will enjoy. Visit our tavern today!
---