Unique Bachelorette Party Ideas
With wedding season approaching, there are many bachelor and bachelorette parties in the works.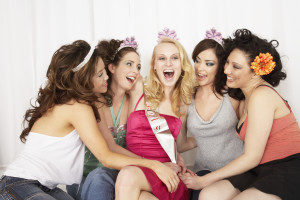 For many, the typical bachelorette party may include going out to a bar and drinking too much. But that is not for everyone, and there are many other ways to throw an unconventional bachelorette party that is fun for everyone involved.
Spa Day
What better way to get the bride and her maids ready for a wedding than a spa day? Plan the bachelorette party close to the wedding date, so you all can get your mani/pedis in before the wedding, all while having a good time. Along with getting your nails done, massages will make sure everyone is calm, cool, and collected before the big day. If the spa has a salon attached, you could even play with the "big day" hairstyles. Many spas and salons are conveniently connected, and you can typically find a group discount.
Slumber Party
For a cost-efficient way to celebrate with your closest friends, why not do an old school slumber party? Kick out your roommates or rent a hotel room and have everyone wear their comfiest pajamas. Pop a bottle of champagne, rent wedding-themed movies, play board games, and bake some goodies. This can be perfect girl's night in before the crazy wedding weekend. For an extra twist, have all of your bridesmaids bring their ugliest dress. Whether it be a former bridesmaids dress, or old prom dress, you can play dress up, complete with crazy hair and make-up. It will be sure to keep you laughing.
Dance Class
While the bride and groom may have taken some dance classes for the first dance, there's no reason why she can't do the same with her girlfriends. Make it a fun one—hip-hop, pole fitness, belly dance, or salsa are all great picks. Whether or not you have dance experience, this will be one way to work up a sweat while having a great time (and maybe fit into your dresses a little better.) Who knows, maybe you will choreograph some dance moves for a surprise at the reception!
Take a Tour
If the bachelorette is a history buff, then this might be the perfect party idea. Taking a tour is an unconventional way to spend s bachelorette party, and you can even make a weekend getaway out of it. There are wine tasting tours all over the country that will be sure to accommodate all of you, and will guarantee a good time.
Salem Cross Inn in West Brookfield, MA plays host to a number of motor coach tours that showcase the area's best qualities, dive into the local history, and teach you some old school homemaker tips. End it at the Hexmark Tavern for some drinks and live entertainment, and stay over at one of the many lodgings in the area.
Salem Cross Inn is also one of the top wedding venues in the area. Combine the bachelorette party and wedding here for the ultimate experience. Contact us for more details, and we will be sure to make your weekend one to remember.
---