Fireplace Feast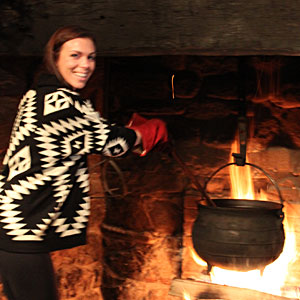 FIREPLACE FEASTS ARE BACK!
We are excited to share our dates for the 2022-2023 season and looking forward to feasting with you again!
Join us for a special dining event as the Innkeepers at the Salem Cross Inn announce their series of 1700's style feasts, prepared on the open hearth of a great fieldstone fireplace. Relax by the fire as dinner is prepared for you in colonial style. Stir the chowder as it bubbles in our cast iron cauldron over a crackling fire. See your prime rib, roasted 'to a turn,' as the only known authentic Roasting Jack still operating in America rotates slowly over a crackling fire of wild cherry logs. Beware the brimming bowl of freshly whipped cream - the perfect complement to New England's best apple pie. While your dinner is cooking to perfection, enjoy a horse drawn wagon or sleigh ride through the valley on the Inn's pristine 600 acres. Shake off the chill with warm mulled wine or cider upon your return. Browse our extensive collection of colonial and federal period American antiques. The Fireplace Feast makes a thoughtful and unique gift for special friends or deserving associates. The Fireplace Feast is just one of our many dining events that provides an authentic colonial experience. At Salem Cross Inn, we capture the history and culture of 1700's America.  Salem Cross Inn's dining events, excellent cuisine, and atmosphere have been featured on Food Network's "The Best Of," WCVB TV5 Boston's "Chronicle" and chosen as the "Hidden Jewel" by Boston's Phantom Gourmet and WGBY.