Motor Coach Tours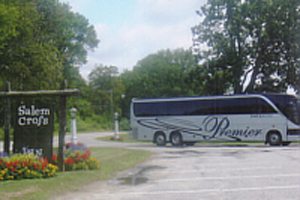 The Salem Cross Inn would be thrilled to host your group coach tours.  We take a little bit of history, combine it with incredible homemade food, throw in a little fun and laughter, top it off with our amazing New England view, and we give you an experience that you won't forget. We would be happy to help you create an itinerary suited specifically to your group coach tour; whether they be young or old, spry or sedentary, women or men or all of the above!  We are experts on our area and would love to divulge some of our secrets to help your group motor coach tours have a memorable, happy experience.
Click here to view some of our area highlights
There must be a minimum of 20 people for group coach tour rates.

Payment is due upon arrival unless prior billing arrangements have been made. We accept cash, bank checks and company checks for payment. No Credit Cards Accepted.

Menu choices are due 10 days prior to arrival.

Split menu choices must be color-coded and tickets issued to passengers PRIOR to arrival to ensure proper meal choices.

Guaranteed count is due one week prior to arrival.
Events & Activities
Dining
Motor Coach Form
Tab 1
Events and Activities
Quabbin Reservoir Coach Tour
A one-hour guided coach tour that delves into the intriguing history of how and why the Quabbin Reservoir was built during the Depression. Four of the towns in the Swift River Valley were flooded to create a drinking supply for Boston and surrounding towns.  It was a controversial move at the time, but it gave people struggling to find work a government-funded job.Though the project uprooted many families and homes, the end result is a majestic, pristine, protected area for wildlife, and a park for people to enjoy, in addition to being Boston's water supply.
Quaboag Hills Coach Tour
Travel over quaint back roads with rambling stone walls, tall white steeples, majestic maples, colonial homes ~ over every rise and around each bend comes a discovery far from the beaten path.  Your coach tour guide will help you get to know the "real" New England.
Horse Drawn Wagon Ride
The Original Historic Fireplace Feast
Relax by the fieldstone fireplace as the crackling fire roasts your prime rib to a turn. View the 1700's antique roasting jack that was used to roast fowl and beef in taverns throughout New England. The flavor of the fireplace roasted prime rib is unsurpassed.  This event has been featured on The Food Network, Chronicle and the Phantom Gourmet.
Musical Entertainment
Choose from popular music, ragtime, Neil Diamond impersonator, old time favorites, or piano sing-alongs.  Always a good time!
Tab 2
Dining: The Salem Cross Inn
The Salem Cross Inn, a colonial restaurant, has made a habit of catering to groups coach tours in search of an authentic New England dining experience.  Nancy Salem, one of the family members who run the Inn, says that they were one of the first stand-alone restaurants – the Inn is a restaurant, not an Inn! –to join the National Tour Association (NTA), in 1982.  The Inn is also a member of the American Bus Association (ABA).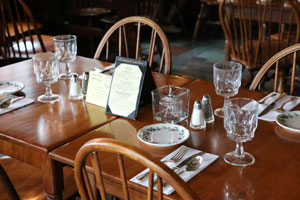 "It was a major commitment for us to accommodate motor coach tours," Nancy says.  The Inn at that time "was fighting to get our name on the map—they thought we were from Salem, they thought we were an overnight stop."  The name Salem, though, is not because of the Inn's location, a bit west of Worcester, and not far from Sturbridge.  Rather, the name derives both from the family name and from the Salem Cross on the door handle, a mark consisting of an "X," or cross, with three horizontal lines through it.  This mark, full of Christian symbolism, was designed and used in Salem, Massachusetts, to let only good folks, not witches or deviltry, pass through the door. Despite the initial confusion, however, word of mouth and persistence, as well as excellence, have brought the Inn to the position where they now "host coach tours from all over the country, as well as from New Zealand, Australia, England and Germany." "Tours love to come here to start out the tour, or at the end for a farewell dinner," Salem says.  "It's because we're what people are looking for in New England.  Everything we serve is prepared from scratch; we have our own baker on staff.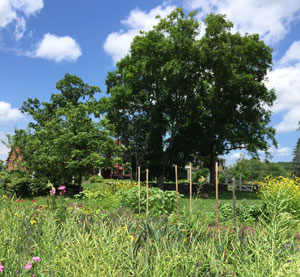 "We've been called a 'Hidden Jewel:"  we offer true New England cooking; we have an heirloom herb garden; we're located on 600 acres; we raise Registered Polled Hereford and Black Angus; and we are big supporters of local farmers."  Perhaps most important of all, the Inn is "the home of New England's Best Apple Pie Contest." The Inn can accommodate several coach tours at a time, without the banquet hall effect, since they have several different rooms. All the rooms have been lovingly restored by the Salem Family--a long-term effort, all done by hand, that resulted in glowing, authentic dining rooms, complemented by rare colonial artifacts--and are a perfect setting for
Fireplace Feasts
of Early American Fare that the Inn puts on during autumn and winter weekends as well as special occasions. Prime Rib is prepared on an open hearth using an authentic 1700's "clock jack" or "roasting jack," the only known working one in the country!  Diners are welcome to participate in preparing its elements: the seafood chowder, the prime rib roasted "to a turn" on the Roasting Jack, and New England's Best Apple Pie. Diners can, of course, choose just to feast, and then "Beware the brimming bowl of whipped cream" that accompanies the apple pie. The Inn's Feasts have been featured on the Food Network's "The Best Of," TV5 Boston's "Chronicle, and The Cooking Channel's "Man Fire Food"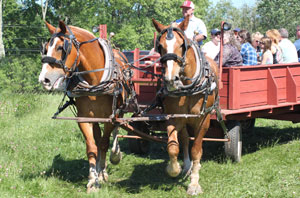 For Father's Day and late summer, our
Drover's Roast
"1700's trailside feast, recalling the days of John Pynchon the colonies' first cattle drover," is prepared outside, with prime ribs of beef rubbed with herbs and spices and slow roasted over an open pit. In addition to its Fireplace Feast and Drover's Roast, the Inn offers
Farmer's Dinners
inspired by what we have grown here, on our own farm, just steps from our gardens and pastures. The vegetables are grown by our gardener and Bo Salem, the herbs are grown by John Salem and the beef is raised by David Salem. There is the
Murder Mystery Dinner Theatre
, where you get dinner and participate in a "who dunnit" show performed by the Stageloft Repertory Theater. We also have outdoor grilling at the
Hexmark Tavern
on Wednesdays and Thursday when weather permits.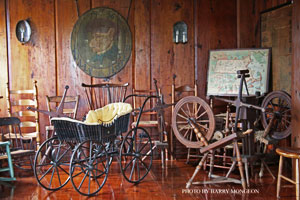 The Inn itself is listed in the National Register of Historic Places, and has an extensive and fascinating history.  The original building was constructed by a grandson of Peregrine White, the first male child born on the Mayflower.  It was the Yankee Magazine's Editors Pick for Best New England Restaurant in 2000 and won the Massachusetts Restaurant Association's (MRA) "2002 MRA Western Massachusetts Restaurateur of the Year Award." Salem Cross Inn also contains a museum room dedicated to the towns that were evacuated to form the Quabbin Reservoir, which is the water supply for the city of Boston and the surrounding towns.
Tab 3
Want more information about our Motor Coach Tours?
Please fill out the form below and we will get in touch with you shortly.