DIY Easter Eggs That Break Tradition
If you celebrate Easter, your family probably has an egg coloring tradition. For most families, that means purchasing one of those egg decorating kits from the grocery store and creating a similar kaleidoscopic of eggs each year. However, this year is the perfect time to get creative with those eggs, and incorporate new materials for some truly unique designs!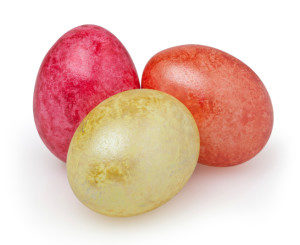 Sharpie
Even if you still want to dye your eggs, permanent marker can add a whole new dimension to your design. Go for metallic pen colors and your dye will cause the metallic details to really pop. Or, skip the dye altogether and simply color your eggs with Sharpie. You'll be able to get really detailed with the pens, and you can make a great imitation Fabergé egg with this technique.
Decoupage
If you see a pretty pattern online, you can print out the pattern onto blank paper, cut it out, and then glue it to your egg with simple craft glue. The possibilities for the themes are endless! Decoupage also works if you have thin paper products such as tissue paper or napkins with a fun design or color. Or, go royal with bits of gold leaf, and give a special reward for the one who finds the "golden egg."
Tie-Dye!
Using old ties (or other 100% silk fabrics), you can easily imprint its pattern on your Easter eggs. Go here for the tutorial.
Glamorous
Dip your dyed eggs in glue, then roll in glitter for an extra glam look. Doing this to dyed eggs (as opposed to clean ones) will help the color show through even if the glitter isn't consistent around the entire surface.
Stickers
If you haven't been to the sticker/scrapbooking section of a craft store in the past few years, you should go immediately. Stickers have reached a whole new level. A majority of scrapbooking stickers now come in 3D, which is a great way to decorate Easter eggs without the mess. Whether you purchase 2D or 3D stickers, you can find some unique designs and themes that will definitely keep your eggs interesting, but without all that cleanup.
Marbleized
Use shaving cream to create a marbleized pattern on your Easter eggs. Dispense the shaving cream on a plate, and add a few drops of food coloring and swirl it around. Dip the egg in the shaving cream and roll it around until it is fully covered. Pick up the egg with tongs and leave it on a wire rack to dry overnight. In the morning, you'll have fully marbled eggs!
Easter is just around the corner, so now is the time to buy the supplies for all of your new Easter egg decorating ideas. Take the boring out of your regular egg-decorating routine with some of the above ideas.
If you're looking for somewhere to celebrate Easter with your family, considered making reservations at Salem Cross Inn. We have a special Easter menu that accommodates varying diets and tastes. Contact us to learn more!
---