Policies and FAQs
Frequently Asked Questions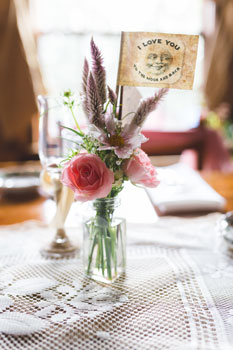 What comes complimentary?
White napkins and table linens
Candles
Preferred vendor list
Private room to get ready when available
A separate gathering room for your cocktail hour
Do you have a site for ceremonies?
Yes, we have beautiful gardens and a gazebo for outdoor ceremonies as well as a site indoors for inclement weather.
Is your food commercially prepared?
Absolutely not! All of our food is homemade on the premises using only the freshest local ingredients. We are happy to customize to your needs.
What is your policy on alcoholic beverages?
You will be charged based upon consumption whether it is a cash bar, limited open bar or full open bar.
Additional Costs
Prices do not include a 3% administration fee, 7% State & Local tax and a 15% Service Fee.
Due to the uncertainty of food costs, prices are subject to change one month prior to event date.
Dessert fee, $3 per person if applicable. Serve Safe certification mandatory.
Guaranteed count due two weeks prior to date. Final payment due one week prior to date with a certified bank check or cash.
Room, Bar and Ceremony fees.

Rental fee $1500 + $2.00 per ceremony seat set up optional.
$250 outside bar set up.
State & Local tax of 7% added.

150 people minimum for the barn on Saturday evening.
---
Deposits, Confirmation & Final Payment
A non-refundable $2000 deposit is required to confirm your date and room location and will be credited directly to your final bill (personal check, cash, money order or cashier's checks are accepted for initial deposit). Final count is due two weeks prior to the wedding date. Balance is due 7 days prior and is based on the guaranteed count. (Cash, money order, or cashier's checks are accepted for final payment.) Credit cards are not accepted. All charges will be based on the final guarantee or the actual number served if greater than the guarantee. Food will not be permitted to leave the restaurant. Menu pricing is guaranteed one month prior to wedding date.
---
Alcohol Policy
No one under 21 years of age will be served, no alcohol may be brought onto the premises and consumed, and no alcohol can be taken off the premises. All staff has been alcohol awareness certified.