Things To Do: Brimfield Antique Show
If you are a fanatic for antiques or flea markets, then the Brimfield Antique Show is the perfect destination for you this summer.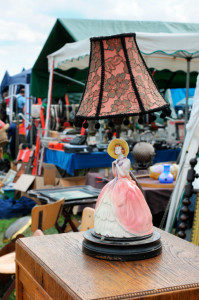 Upon first visit, the Brimfield Antique Show easily becomes many people's favorite event of the year. Located in the small town of Brimfield in Western Massachusetts (only an hour drive from Boston), this show has the reputation for being the biggest and most renowned antique show in the country. The show draws all sorts of people—from locals to celebrities, and even some from around the world.
The Brimfield Antique Show runs for about one mile down Route 20 on either side of the highway, with dealers selling just about any antique or unique item one can think of. The event is held three times per year and lasts for five days at a time.
At this popular event, you will find items from incredible antiques to tag-sale junk, as well as food courts and rest areas. Whether a casual collector or a professional picker, the Brimfield Antique Show is fun for everyone. Some have even established the trend of wearing a t-shirt announcing what they collect to improve ease of finding those treasured items and sparking conversation with dealers and buyers alike.
As the summer months heat up, everyone is currently preparing for the July edition of the Brimfield Antique Show. This year the event will be Tuesday, July 9th through Sunday, July 14th. If you can't make the show in July or aren't willing to fight the heat, there is also another edition of the Brimfield Antique Show in September.
The Brimfield Antique show began in the 1950s with the establishment of an open-air auction by a man named Gordon Reid. After the success of this auction, neighbors began opening their own yards during the event to sell their own antiques, and the event quickly grew in size. The Brimfield show is now made up of 20 different privately owned and operated antique shows, some of which are still run under the same tradition of Reid or other early contributors. If you are planning to visit the Brimfield Antique Show, be sure to grab a map and plan your route along the various locations.
After a long day at the Brimfield Antique Show, you will probably need a place to recharge. Located about 10 miles down the road from Brimfield, Salem Cross Inn in West Brookfield is a great destination for those seeking delicious American fare and spectacular service. Contact us to make your reservation today!
Have you ever visited the Brimfield Antique Show? We'd love for you to share your experiences in the comment section below!
---