7 Ideas for Summer Wedding Colors
Summer is a popular time for weddings, especially those held outdoors.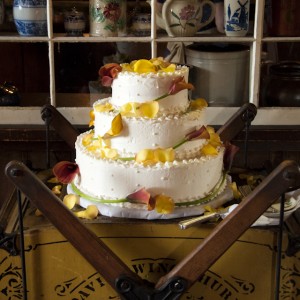 The weather is warm and the sun offers a bright and glimmering backdrop to the special day. However, no matter what time of the year your wedding is held, it still means making a lot of decisions that will ultimately lead to the perfect wedding. One such decision is picking out your summer wedding colors.  We've compiled a list of seven of our favorite summer wedding colors ranging from bright and bold to more neutral and subdued.
Light gray and pale pink
Like black, gray is a versatile color that matches anything. However, unlike black, lighter shades of gray are much softer (and absorb less sunlight!) when it comes to outdoor weddings. While gray goes great with a lot of different colors, pale pink complements it particularly well. Choosing gray and pink for your summer wedding colors allows for many different combinations, since both colors work well as base colors and accent colors. Light pink flowers are a great accent for this combination!
Cream colors or beige and white
These lighter, more neutral summer wedding colors will never go out of style. They also happen to look great in any type of setting and will not clash with the surroundings. They will create an atmosphere that is reminiscent of the beach without having to worry about sand. Off-white wedding dresses are also in style this season.
Purple and blue
Striking colors like purple and blue add an elegant touch to any wedding, particularly those taking place in the evening.  Deeper purples used with lighter shades of blue make an especially beautiful combination. Silver is another color that matches well with purple and blue, if you want to add a bit of sparkle to your magical day.
Yellow and orange
Warm and bright, yellow and orange are classic summer wedding colors. This memorable combination allows you to get creative with arrangements and decorations. As an added bonus for outdoor weddings, these types of colors do not wash out in the sunlight.
Blue and white
Blue and white always pair well together. All of the various shades of blue can offer up a wide variety of styles to create.  Darker blues are crisp and bold against white.  Meanwhile, paler shades of blue paired with white can create a soft, dreamlike look.  When it comes to summer wedding colors, you can't go wrong with choosing blue and white.
Pink and green
This combination goes wonderfully with outdoor weddings, but depending on the hues you choose, they can look great indoors, too. Pink and green both come in a wide variety of shades that will allow you to create a number of different atmospheres. Brighter colors are striking and fun while pastel ones can be calming and sophisticated. Pink and green are quintessential summer wedding colors.
Various shades of a single color
If you have one color in mind and want to use it, you do not necessarily have to agonize over picking a second color to pair with it. Instead, try using different shades of one color. Pick your base color and then choose different shades to create unique accents.
We hope that you will have an easier time choosing your summer wedding colors after reading this article. Planning a wedding can be stressful and we are happy to make the process easier. Here at Salem Cross Inn, you can create your own wedding package to have the perfect venue, food, and reception. We work to stay within our clients' set budgets and cater to their every need. Our customized wedding packages will help you organize your event without the need of a wedding planner. If you are interested in booking your wedding with us, please feel free to contact us.
Which summer wedding colors on our list did you like best? Will you be choosing any of these summer wedding colors?
---