The Health Benefits of Strawberries
While the old saying "an apple a day keeps the doctor away" might hold some truth, adding a couple of strawberries to your diet might work in just the same way.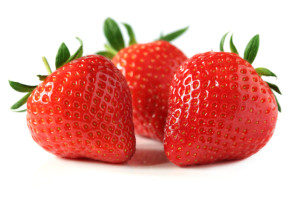 There are numerous health benefits of strawberries that could surely give the apple a run for its money.
Some people might believe that just because strawberries are sodium free and fat free, as well as cholesterol-free, they make a good healthy snack. And while that's certainly true, those reasons barely cover the surface of all the amazing benefits of strawberries.
The Nutrients Packed Into Strawberries:
Though they may be small in size, strawberries are not only packed with vitamin C, but they also contain healthy amounts of antioxidants, fiber, manganese, potassium, vitamin B6, vitamin K, and ellagic acid.
The Many Other Benefits of Strawberries:
The benefits of strawberries are vast and range from helping your heart to your skin and even your bones. Some of the biggest health benefits of strawberries include lowering blood pressure and increasing good cholesterol. Eating a cup of strawberries three or four times a week can even help balance blood sugar levels. The promotion of healthy bones and healthy eyes are also some of the benefits of strawberries. One of the greatest benefits of strawberries is that they are proven to help fight free radicals. Fighting free radicals can help prevent the onset of age-related macular degeneration and cataracts. The antioxidants found in strawberries can even help reduce the risk of several different types of cancers.
Another one of the benefits of strawberries is that they can act as an anti-inflammatory agent. This means that they can help relieve a number of inflammatory disorders including gout, osteoarthritis, asthma, and atherosclerosis.
Other more underrated health benefits of strawberries include regulating digestion, curbing hunger and therefore promoting weight loss. Strawberries can also help you maintain a healthy immune system by warding off against colds and other infections.  As an added bonus, one of the benefits of strawberries is that their vitamin C promotes the production of collagen, which helps skin maintain elasticity and stay smooth.
And if you need to know another one of the benefits of strawberries… they really do taste great.
Adding more strawberries to your diet will keep you looking and feeling great. It should be noted that the best way to get the most benefits of strawberries is to eat them raw and as fresh as possible. It is also recommended that you eat organic strawberries in order to avoid consuming potentially harmful pesticides.
At Salem Cross Inn in West Brookfield, MA, we stress the importance of eating fresh and healthy foods. We pride ourselves on serving seasonal, locally grown food. June is the season for harvesting strawberries in Massachusetts, so we can ensure that our strawberries will be fresh! Consider making a reservation with us today.
Did you know that there were so many health benefits of strawberries?  Are you planning to add more strawberries to your diet now that you do?
---