Getting Started with Your Fall Vegetable Garden
If you have ever tried your hand at gardening, even if it was only planting a few herbs, you probably sowed your seeds in the late spring, when green thumb fever begins for most.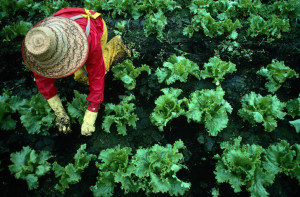 Having an endless selection of fresh garden tomatoes throughout the summer is not only a money-saver but also delicious and healthy! As the fall moves on, crops of garden-fresh vegetables become slighter. However, there is a way to still enjoy home-grown vegetables, and that is by planting a fall vegetable garden. Certain "cool season plants" are tolerable to frosts, allowing you to sow them in the late summer.  
You should start thinking about your fall vegetable garden while the summer is still high, but if you are only now considering planting a fall vegetable garden, you will be happy to know that you can still plant fall crops. In Zone 6, which includes Massachusetts, fall planting can be done as late as mid-September. We recommend that you begin sowing the following plants as soon as possible for best results.
Broccoli
Find a fast-growing variety of broccoli, and you will be able to harvest the first crop by November. Sow the broccoli seeds about one month before your area's first frost date (the first frost for Massachusetts in 2013 is predicted to be October 14th). Leave about 18 inches between plants. Seeds should be planted half of an inch deep in rich soil.
Spinach
Spinach requires cooler weather to flourish, which is why it must be planted in early spring or fall, as the heat of the summer is too harsh for this plant. In fact, spinach can tolerate frosts and temperatures as low as 15 degrees Fahrenheit. Choose a spot in your fall vegetable garden with well-drained soil and lots of sunlight. Seeds may be planted one inch apart and about a quarter of an inch deep. Be sure to water regularly, but other than that, this plant requires little care.
Lettuce
Lettuce and other leafy varieties are excellent cool season vegetables. Whether you prefer baby greens or large heads of iceberg, salad greens fare well in the fall. Lettuce may be sowed in two-week intervals up to the month before the first frost. Plant your lettuce in loosened soil; about a quarter of an inch deep and one inch apart. It is important that you maintain moist soil. You can sow kale and arugula in the same conditions.
Onions
Onions are a hardy vegetable that can survive throughout harsh winters. While onions can be grown from seed, they are easier to begin from bulb. Not all onion varieties are suitable for autumn gardening, so be sure to check what will work best in your fall vegetable garden. Space the seeds or bulbs at least a half of an inch apart and cover with an inch of compost for best results. You will know when the onions are ready to harvest, because the stalks will fall over naturally. Much like onions, garlic and shallots may be planted in a similar manner.
More information on the optimum sowing time for each plant in your Massachusetts fall vegetable garden can be found here.
If you love eating garden-fresh, local foods, then consider visiting Salem Cross Inn. We cook all of our dishes from local produce, and we think that you will be able to tell the difference. Call us to make your reservation today!
Have you ever tried planting any vegetables in the fall? Were they successful?
---