Foods That You Can Regrow From Scraps
What better way to make your produce last longer than by regrowing the scraps?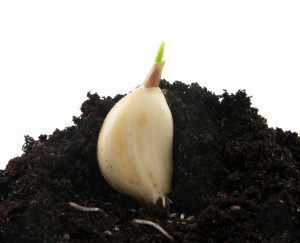 Since fresh produce tends to be more expensive than less healthy food sources, when you regrow from scraps, you can combat this cost. This project is especially great for those who don't have the ability to plant their own outdoor garden, as these plants may be grown in jars or pots in any sunlit area. Now you can grow your own vegetables, no garden needed!  Learn about the six best produce items that can be regrown from the list below.
Foods You Can Regrow From Scraps: Scallions
Whether you refer to them as green onions, scallions, or spring onions, this versatile plant can be regrown easily in your kitchen. Once you've used up the green stalk of the plant for your cooking, simply place the white root end in a jar of water. Stick it in a sunlit spot (like a windowsill) and the plant will begin to spring new green shoots before your eyes. Be sure to change out the water frequently.  Soon you will have a continual supply of scallions. If you only have a couple of scallions, a shot glass is a great sized container, otherwise mason jars hold a bunch well. You can also regrow leeks from scraps in a similar manner.
Foods You Can Regrow from Scraps: Potatoes
Instead of throwing away old potatoes that have grown eyes, you can regrow from scraps. Chop up the potato (ensuring that each piece has at least two eyes) and allow it to callus overnight. Then you can plant it in a deep pot. Be sure to water regularly to keep the soil nice and moist. If you have a compost heap, you can actually regrow potatoes simply by burying it amidst the compost! The compost scraps will retain moisture and encourage the potatoes to grow.
Food You Can Regrow from Scraps: Ginger
Fresh ginger roots can last a long time, since the flavor of the root is so pungent that you only need to use a little bit to spice up your meal. Fortunately, leftover ginger can be planted before it goes bad, as long as it has developed eyes. Plant your piece of ginger in rich soil and keep it in a humid area of your house. It will sprout green shoots and after a few months will be ready for harvest.
Food You Can Regrow From Scraps: Garlic
One single clove of garlic can turn into an entire head with just a little bit of soil and sunlight. Plant the clove when it has begun to grow a green shoot from the top. As new shoots continue to grow out of the soil, trim them back to encourage more cloves to grow.
Food You Can Regrow From Scraps: Celery
To regrow celery, simply chop off the bottom and place the base in a shallow cup of water. Once leaves begin sprouting after about a week, the celery can be transplanted into soil. This same method can be used for various types of lettuce and cabbage.
Foods You Can Regrow from Scraps: Tomatoes
Scoop out the soft inside of the tomato that contains the seeds, and put it in a jar with about an inch of water. Cover the jar with a paper towel and allow it to sit for a few days. Strain the seeds. Then you can plant them in a pot of soil and place it in direct sunlight.
Choosing to regrow from scraps in your home is a great way to recycle food. With the outstanding rates of food waste, learning to regrow from scraps not only benefits you but also the environment. Regrowing scraps is a great way for the novice gardener to begin sowing valuable foods!
Here at Salem Cross Inn, our focus is to serve our customers fresh, locally grown food. Local produce tends to be healthier and contain more flavor, which is why we also encourage you to regrow from scraps to enhance your own cooking. Contact us to make a reservation so that you can see what beautiful dishes can be made from garden-grown produce!
Now that you know how to regrow from scraps, will you be creating your own indoor garden?
---