Where to Pick Your Own Apples in MA
Apple picking season is upon us!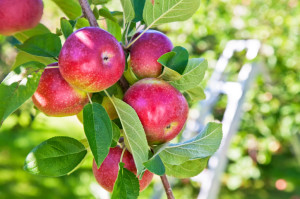 As the fall weather seeps into the end of the summer, many people begin to crave quintessential autumn staples like pumpkin spiced coffee and hot apple pies. Whether you want to bake apple pies yourself, or simply relish in the fall flavors, visiting a "pick your own" orchard is a great way to fulfill your longings.
Breezeland Orchards, Warren, MA
Breezeland Orchards offers pick your own for many different apple varieties. They also have a farm stand where they sell apples, along with other produce such as berries, maple syrup, and artisan cheeses. They are even offering a coupon for a free half-dozen of apple cider donuts with any purchase on Monday through Thursday.
Ragged Hill Orchard, West Brookfield, MA
Ragged Hill Orchard is a solar powered farm that offers pick your own apples, pears, peaches, and berries, daily from 10am to 6pm.  You can also visit their country store to find some delicious homemade treats.
Brookfield Orchards, North Brookfield, MA
Along with having pick your own apples every day from 9am to 5pm, Brookfield Orchards also boasts an old-time country store and a delicious snack bar. They have a wide array of seasonal treats, including apple dumplings, pies, and cakes that have helped bring them their notoriety.
Hyland Orchards, Sturbridge, MA
Aside from offering pick your own apples on the weekends from 12pm to 6pm, Hyland Orchards also offers pick your own peaches and pumpkins. They offer free wagon rides and have live music every weekend. Plus, they brew their own beer!
Cook's Farm Orchard, Brimfield, MA
Pick your own apples are available daily from 10am to 5pm. Cook's Farm's bakery is brimming with tasty pies. Be sure not to miss their Apple Fest, which is happening on September 21st and 22nd. This event includes live music, pony and wagon rides, a hay maze, face painting, and of course apple picking!
After a long day of picking your own apples, you will probably want something tasty for dinner! Salem Cross Inn is conveniently located in West Brookfield, MA, not far from any of these pick your own apple orchards. We offer local American fare for the whole family, and are dedicated to bringing you the freshest ingredients. You can view our dinner menu here, or call us to make a reservation!
What is your favorite part of pick your own apples?
---