Things to Do: Visit the Quabbin Reservoir
Whether you are just visiting the western Massachusetts area or have lived here your whole life, a summer cannot be complete without a visit to the Quabbin Reservoir.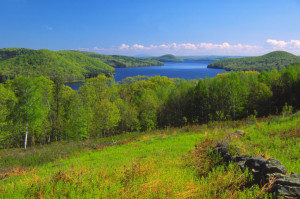 Few places match the magnificent scenery of the Quabbin Reservoir. This destination includes 181 miles of shoreline and is known as one of the most beautiful and serene places in New England for walking, hiking, and picnicking.
The Quabbin Reservoir was built in what was known as the Swift River Valley during the 1930s, in response to the rising demand for fresh water. The Quabbin owes its name to the Native American chief, Nani-Quaben, which means "the place of many waters" or "the well-watered place." In the building process, four towns were required to vacate the area in order to allow room for this new water supply. Many people who visit the reservoir enjoy being able to look at the water and think about the towns, homes, and businesses that once stood there. The Quabbin Reservoir is a truly awe-inspiring piece of history, and old relics still stand from times past.
Today, the Quabbin Reservoir provides millions of people in Massachusetts with clean drinking water, and it remains one of the largest reservoirs in North America. It spans nearly 40 square miles and can hold up to 412 billion gallons of water. Of course, the reservoir offers much more than clean water. There are many forms of recreation to experience at the Quabbin.
On the land bordering the Quabbin Reservoir, there are several trails for hiking, walking, and biking.  The many quiet and peaceful spots are perfect for a hosting picnic. Bird watching is another popular activity, since the reservoir is home to many varieties of birds… you might even see a bald eagle! The variety of fish also means that the Quabbin is a great place for fishing. However, fishing is only allowed during the fishing season from April to October and is highly regulated.
Of course, the gorgeous backdrop of the Quabbin Reservoir also means that there are numerous photo opportunities for shutter bugs to enjoy. Whether you are visiting the area, or are a Massachusetts local, the Quabbin Reservoir is certainly a place that should not to be missed.
There's nothing like a day in the great outdoors to work up your appetite, especially if you're walking around or hiking. After spending a day at the Quabbin Reservoir, perhaps you will consider dining at the historic Salem Cross Inn, located conveniently in the town of West Brookfield. Enjoy a great meal consisting of fresh, locally grown food to wrap up your day outdoors. Contact us today to make a reservation!
Can you name some other great places in western Massachusetts for going on picnics, walks, or hikes?
---