Apple Picking in Central Massachusetts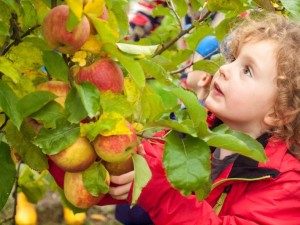 It's that time of year again! The cool, crisp fall air is beginning to blow, and colorful leaves swirl around our feet. The one thing we love more than the great weather? Apple picking!
There are plenty of wonderful autumn destinations in Central Massachusetts, so grab your friends and family this weekend and head out to some of our favorite farms, such as Breezeland Orchards, Brookfield Orchards, and Ragged Hill Orchard.
Since 1896, Breezeland Orchards in Warren, MA has been the perfect autumn destination for families. Open August through Thanksgiving, the farm has a great variety of pick-your-own apples. Don't have time to head out into the fields? Breezeland Orchards has a great farmstand where you can buy all the fresh apples and fruits you need for fall baking!
Brookfield Orchards in North Brookfield, MA is open all year 'round, perfect for whenever you have a craving for their delicious apple dumplings! Before you head out into the field to pick-your-own apples, be sure to stop into the country store to checkout their jelly, honey, and maple syrup selection. Looking for the perfect gift? Brookfield Orchards will ship it for you!
Ragged Hill Orchard in West Brookfield, MA offers pick-your-own apples, as well as other great varieties of fruits perfect for seasonal baking. For teachers and school groups looking to get their students outdoors this fall, Ragged Hill Orchard offers live demonstrations on their old-fashioned cider press, the perfect way to round out a pick-your-own experience!
After you have spent the day picking apples with your loved ones, head on home to bake our delicious Honey Apple Pie. This easy recipe is the perfect way to end a perfect day of apple picking!
Salem Cross Inn's Honey Apple Pie
Pie Crust:
5 cups flour
1 ¾ cups shortening
¼ cup sugar
1 tsp salt
½ tsp baking powder
1 egg (beaten)
1 tbsp cider vinegar
Water
Combine flour, sugar, salt, and baking powder. Cut in shortening until consistency of small peas. Put one beaten egg into a measuring cup. Add vinegar and enough water to make 1 cup of liquid. Add gradually to dry ingredients. Press to make ball, then divide into 4 equal parts. Yields two, 2-crust pies. Also can be frozen for later use.
Pie Filling:
6-8 Cortland, Honeycrisp or Rome apples, peeled and sliced
1/3 cup local honey
3 tbsp sugar
2 tbsp cornstarch
1 tsp cinnamon
¼ tsp salt
3 tbsp melted butter
Mix honey, sugar, cornstarch, cinnamon, salt, and butter together. Then combine apples and honey mixture together in a large bowl. Place bottom unbaked pie crust in 10" pie pan, fill with apple mixture, then roll out top crust and place on pie, flute edges, and vent top. Bake at 350 degrees for approximately 1 hour.
If you would rather eat dessert than bake it, be sure to come by the Salem Cross Inn this fall to enjoy a great meal and our fun, seasonal events! Celebrate the season with your friends and family at our Fireplace Feasts, or solve a mystery at our Murder Mystery Dinner Theater. When you dine at Salem Cross Inn, you don't just get a meal, you get an experience!
---