Great Local Farms near Brookfield MA to Visit this Fall
There is nothing more festive in the fall than pumpkins! This weekend, head out into your community and find some pumpkins (as well as other great fall crops) at some of our favorite local farms and farm stands. Then, head on home to bake and carve!
To Carve or to Bake?
Believe it or not, there is a big difference between pumpkins that you can bake and pumpkins that you can carve. When looking for a carving pumpkin, look for a pumpkin that has a nice, sturdy shape that will not collapse once carved. When looking for a pumpkin for baking, you don't want to worry so much about the shape of the pumpkin, but more about the variety you are purchasing. If you are looking to make your own pumpkin puree for baking, you will want to use a sweet pumpkin. Sweet pumpkins look slightly darker in color than other varieties of pumpkin, and often have dark spots or freckles on their surface.
No matter the type of pumpkin you choose, for carving or for baking, remember to never carry the pumpkin by its stem. If the stem breaks off, the pumpkin is left with a wound that can invite infection and rot. Also remember to check for soft spots and bruises on your pumpkin. These are all signs of rot, which is something you want to avoid!
Looking for pumpkins? Head to some of our favorite local spots!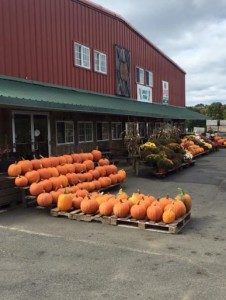 Honey Bee Orchard– Located in West Brookfield, Honey Bee Orchard has all of your fall needs! You'll find everything here from apples and pumpkins to squashes and gourds! Visit them at 107 East Main Street, West Brookfield, MA 01585.
Overlook Farm– Pumpkins, fruit, herbs, flowers… Overlook Farm has it all! While you're here, pick up some fresh veggies for dinner as well. Check them out at 15 Long Hill Road, Brookfield, MA
Brookfield Orchards– If you'd rather eat pumpkin pie than make it, be sure to visit Brookfield Orchards! They will bake your holiday pies for you all season long, all you have to do is pick them up! Visit them at 12 Lincoln Road North Brookfield MA 01535
Salem Cross Inn's Pumpkin Pie Recipe
Ingredients
Your favorite pie crust
1 cup sugar
1/2 teaspoon salt
1 1/2 teaspoons cinnamon
1/2 teaspoon powdered ginger
1/2 teaspoon ground cloves
1 1/2 cups pumpkin
1 1/2 cups evaporated milk
1/2 cup milk (a splash)
2 eggs, slightly beaten
Directions
Preheat oven to 425 F. Line a 10-inch pie pan with the pastry dough. Combine the remaining ingredients in a large bowl and mix together until smooth. Pour into lined pan. Bake for 10 minutes, then reduce the heat to 300 and bake for about 50 minutes more or until the filling is firm.
Whether you carve pumpkins this fall or bake them, we hope that you get to spend some time outside to enjoy the beautiful fall weather! Come by Salem Cross Inn for a great meal, take a walk around our beautiful property, or attend one of our festive seasonal events! To learn more, visit us at SalemCrossInn.com.
---