New Year's Eve Holiday Feast
2020 New Year's Eve Fireplace Feast information.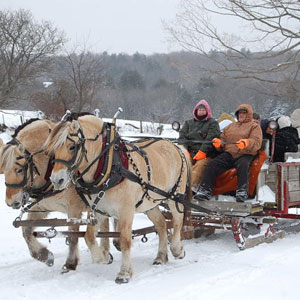 Start with some hors d'oeuvres by the fireplace as you watch your prime rib roasting to perfection on a device dating back to 1700. Take a horse drawn sleigh/wagon ride through the back fields then chase the chill away with some nice, hot, mulled cider or wine. Relax, help make apple pie using an antique apple peeler and corer, or make seafood chowder in an antique iron cauldron right in the fieldstone fireplace. Next, get ready for the main feast! Start off with a champagne toast to the New Year, then sit back for dinner. You'll be served your fireplace seafood chowder and prime rib* (and later you'll be offered seconds!). In addition, there will be bowls of fresh butternut squash, spinach pie and oven roasted potatoes. Don't fill up on the homemade rolls, even though they are quite delicious, because you'll want to save some room for the scrumptious deep dish apple pie with fresh whipped cream. Later, it's time to go downstairs to the Chestnut Room where a DJ will be playing and you can dance right through the midnight hour! Wear a party hat and use those noisemakers! It's a great way to ring in the New Year!
*If prime rib doesn't tickle your fancy, salmon will be offered as well. Just order it when you purchase your tickets.