Murder Mystery Dinner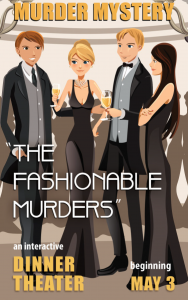 We regret to say that all of our events are put on hold due to the gathering restrictions mandated by the state of Massachusetts. As soon as we are able, we will schedule.
Salem Cross Inn and Cornely Productions present a Murder Mystery Dinner: Our interactive dinner theater, The Fashionable Murders.
You are welcome to a special event, the National Awards for special fashion design boldness!
The fashions are so bold that they might knock you over or even kill you when you see them! That is if the jealousy and infighting exhibited by the designers themselves doesn't result in death before the awards can be announced.
Guests may dress as casual, crazy, and comfortable as they choose, Most important, bring your thinking caps in case you are asked to solve a murder!
The Murder Mystery Dinner is an advanced ticket purchase dining event. To order tickets, please call Salem Cross Inn at 508-867-2345 or submit your order online using the form below.