American Beef: How the Polled Hereford Came to America
h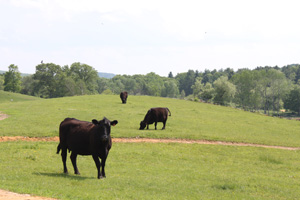 Here in Massachusetts, over 100,000 acres of land are dedicated to cattle farming alone. At Salem Cross Inn, our rolling hills and picturesque farmlands create some of the most beautiful views, and makes a perfect home for our Black Angus and Polled Hereford cattle. We are proud to say that of all the registered Polled Herefords in the state of Massachusetts, we own half! Our Polled Herefords' pedigrees originate from Herefordshire, England.
The Early Years
The year was 1723 and the saddened family of Squire Richard Thompkins gathered at their stone home in Herefordshire, England to mourn his death. Squire Richard had spent a lifetime trying to improve the cattle of Herefordshire. He had embarked on a new idea of selective rather than random mating. These "Herefords" were nondescript animals of hodge podge ancestry dating back to the days of Caesar. They came in a varied assortment of colors ranging from red to dark gray with faces that were mottled to pure white. "And to my six-year-old son, Benjamin, I leave Silver with her calf." Silver would become the foundation of the Hereford breed. She had a line of white which ran the length of her back and had a pure white front and face. It was Silver who indelibly stamped the "white face" into the legends of history.
A Mutation Leads to Greatness
In 1899, a calf named Giant was sold to Geo Fadley in Horton, Kansas for $150. Unknown to Fadley at the time, Giant was a mutation. While both of Giant's parents were horned, Giant was not. It was soon discovered that seven of Giant's first ten calves were polled (meaning that they were without horns). Warren Gammon, a cattle breeder of the time has reportedly said of Giant's mutation, "In the building of Solomon's temple the stone that the builders rejected became the chief corner stone."
Giant, weighing 1,650 pounds was soon to sire a polled calf named Columbus, who weighed 1,900 pounds fully grown. Columbus sired Gabriel, who reached 2,300 pounds, and Gabriel sired a son who weighed an astounding 2,700 pounds in his adult life. Gammon's early prediction had proven true. Soon after the impressive growth of Giant's family tree, Polled Herefords quickly became profitable in the cattle market, and in 1911 American Polled Hereford Cattle Club counted a total of 2,250 Polled Hereford registrations across 34 states, South America and Canada. In 1916, a bull named Marvels Pride, whose lineage had been traced to Giant, was sold for $5,400. Three years later, he was sold again for a world record price of $14,500 (which equates to roughly $320,000 in 2016).
Salem Cross Inn specializes in crafting indulgent dishes from our very own pasture raised beef. To learn more about farming and life "back in the ol' days", be sure to read our blog. Or, come to Salem Cross Inn in West Brookfield, MA to delight in our farm fresh dishes!
Click here for more interesting information about Polled Hereford Cattle!
---