Winter Holiday Traditions at Salem Cross Inn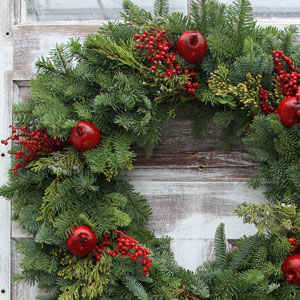 The holidays are always a time for continuing traditions, but also for making new ones. At the Salem Cross Inn, this is something we feel we do best. While offering numerous events for everyone in the family, we have been honored over the past 55 years to have so many families choose us to spend their holiday season with. Whether it's the warmth of our atmosphere, the comfort of our food, or the creativity behind our 'Deck the Hall' series we take pride in having something for everyone.
Give Thanks
Our Thanksgiving feast is an event where each year, the reservations go within minutes. Maybe it's the traditional turkey with all the trimmings or the family friendly environment (or both) that keep so many coming back. Year after year, we have seen families grow and continue to return to spend their Thanksgiving with us. It is a true joy watching generations re-visiting us and keeping the tradition within the family. Thanksgiving goes back to 1863 where the Pilgrims and Indians are said to have sat around the table and to give thanks (or so they say..haha). Thanksgiving at the Salem Cross Inn dates back to 1961. Have you ever spent a thanksgiving with us? If so, please know that the Salem family is thankful for you.
Deck the Halls With…
Everybody always complains about the shopping that comes along with the holidays. Not enough time, not enough money, it's taking away from your personal life. Well, with our 'Deck the Hall' series we crafted an evening that gives you both a night out and helps decorate your house. With our crafters leading each class and our incredible chef in the kitchen, we take holiday decorating to a new level. Now when all the family heads to your house and compliments your decorations, you will be able to say you made it yourself. Instead of having to say, "Oh yeah, I picked it up when I was shopping and then spent 30 minutes online to purchase it."  We have continuously seen people reach out of their comfort zone and try their hand at crafting and this alone is why we continue to hold the series.
He's Making a List…
Now a days, the radio starts playing Christmas music the day after Christmas; or some as early as November 1st. Well, we respect Thanksgiving around here. But, as soon as it is over our Christmas Memories series begins. This is a traditional play based on Dylan Thomas' "A Child's Christmas in Wales" where the actors are dressed in Victorian inspired costumes.  The play includes many classic Christmas songs, some old and some new, and will most certainly bring out your Christmas spirit. It continues to be a highlight of the season so we offer several dates to ensure everybody who wants to, has the opportunity to experience it. There is an age-old tradition of children taking the classic photo on Santa's lap. We know we have listed many holiday traditions here at Salem Cross Inn, but if we had to choose a favorite it's hard for us not to say this one. The smiles (and sometimes tears- we know how that goes!) are truly magical to see. Not only on the children's faces but on the parents as they watch their child experience the true enchantment of holiday spirit come alive in that one gesture of "What are you asking Santa for this year?" from the man himself.
From the Salem family, we cordially invite you into our lives and to join in on the celebrations that our family cherishes. It would be our honor to help you partake in ending the 2016 year with a warm meal, making memories with friends, and taking time to enjoy the holiday spirit that our establishment has created for the past 55 years. For a full list of our Winter Holiday traditions and events as well as reserve tickets please click here.
---