When Should I Plant Spring Vegetables?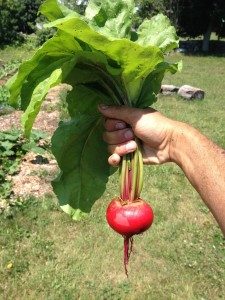 As springtime inches closer and closer, it is difficult for us not to dream of warm sunshine and bright, colorful flowers swaying in the breeze. With these warm thoughts come the daydreams of spring and summer gardens. Every year, our garden gives us plentiful amounts of delicious seasonal vegetables and herbs. While we may have to wait a bit longer for the first seeds to sprout, here are a few quick tips that you can use at home to help make your spring garden a success!
When Should I Begin to Plant Vegetables?
First, familiarize yourself with the USDA Frost Map. Understanding when you are likely to see the last frost will help you to better prepare your spring garden. In early spring, you want to focus on hardy and semi-hardy vegetables. Hardy vegetables tolerate frosts between 25-28 degrees Fahrenheit, while semi-hardy vegetables tolerate lighter frosts from 29-32 degrees Fahrenheit. To be safe, always be prepared to cover your plants when a frost is in the forecast. Keeping stakes (several inches taller than the plant itself) as well as burlap or frost covers handy is always a good idea when you are uncertain if the frost is gone for good.
Some great hardy vegetables we'd recommend for an early spring garden include:
Broccoli
Brussels sprouts
Cabbage
Kale
Leeks
Parsley
Radish
Spinach
Turnip
When the nights aren't so cold, think about planting these semi-hardy vegetables outdoors:
Beets
Carrots
Swiss chard
Celery
Rutabaga
Cauliflower
Lettuce/other salad greens
Many vegetables will benefit from an early head start, such as summer ripening varieties of tomatoes. If you plan to start your vegetables indoors, place them in a sunny, south-facing windowsill that will receive 4-5 hours of direct sun daily. If the plants are not strong early on, they may not survive in your outdoor garden.
What about Planting Flowers?
As the days begin to warm up near the end of March and into April, we all jump at the slightest sign of spring blossoms. If you hope to get your garden blooming early, look no further than the pansy and viola. Great for early spring planting, 25 degree nights and bursts of 80 degree days are no match for these hardy plants. While they weather extreme temperatures better than most plants, it is not uncommon for pansies and violas to die back in the summer, only to come back again in the fall as their spring plants produce seeds which lie dormant in the summer heat.
Need more variety? Try these semi- hardy spring flowers:
Hellebore
Bloodroot
Snowdrop Anemone
Calendula (Pot Marigold)
Lobelia
Larkspur
Crocus
If you love planting your own fresh vegetables, (or if you simply love eating them!) come visit the Salem Cross Inn in West Brookfield, MA. Nestled on 600 acres of New England countryside, our seasonal menus feature traditional American fare that is made fresh each day, incorporating the heirloom vegetables and herbs grown from our gardens as they become available. To learn more about Salem Cross Inn, visit us online or give us a call at (508) 867- 2345.
---