The Best Apple Pie in New England
Now that autumn has returned to New England with its beautiful colors in tow, it's time to celebrate all of the best things about fall: warm sweaters, crisp air, and plenty of fun activities.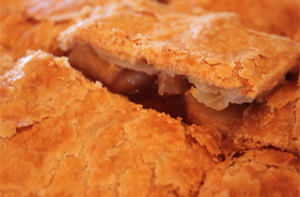 Apple picking is one of the best outdoor activities in the fall. Once you come home with your bounty, you'll have to decide what you want to do with all those apples. While they do make a great snack, you can do so much more with apples, including making a pie.
Some people are dedicated to a family apple pie recipe, but the question is: has that recipe won a competition? The following recipe for Honey Apple Pie has won Best Apple Pie in New England. You will not regret trying this recipe on for size, especially when you can make it with apples plucked fresh off the trees.
Honey Apple Pie*
Pie Crust:
5 cups flour
1 ¾ cups shortening
¼ cup sugar
1 tsp salt
½ tsp baking powder
1 egg (beaten)
1 tbsp cider vinegar
Water
Combine flour, sugar, salt, and baking powder. Cut in shortening until consistency of small peas. Put one beaten egg into a measuring cup. Add vinegar and enough water to make 1 cup of liquid. Add gradually to dry ingredients. Press to make ball, then divide into 4 equal parts. Yields two, 2-crust pies. Also can be frozen for later use.
Pie Filling:
6-8 Rome apples, peeled and sliced
1/3 cup honey
3 tbsp sugar
2 tbsp cornstarch
1 tsp cinnamon
¼ tsp salt
3 tbsp melted butter
Mix honey, sugar, cornstarch, cinnamon, salt, and butter together. Then combine apples and honey mixture together in a large bowl. Place bottom unbaked pie crust in 10" pie pan, fill with apple mixture, then roll out top crust and place on pie, flute edges, and vent top. Bake at 350 degrees for approximately 1 hour.
This apple pie is best served warm and topped with a scoop of vanilla ice cream. Bring it to your next holiday gathering, or use it as an excuse to go apple picking. Being able to warm your insides with this tasty pie is one of the many blessings of autumn.
If you love traditional American fare like this apple pie, then you will love dining at Salem Cross Inn. Our Fireplace Feast events are sure to warm you inside and out. Plus, we use locally-sourced ingredients… so our apples might have come from the same tree that yours did! Make your reservation today.
*Recipe property of Salem Cross Inn.
---