How to Cook a Turkey for Thanksgiving
Whether it's your first time hosting Thanksgiving dinner, or your fiftieth, we can all agree that one of the most important parts of cooking Thanksgiving dinner is being able to make a great turkey.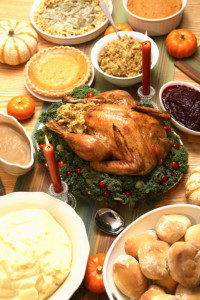 The turkey is the centerpiece of a traditional Thanksgiving, so it's important that it comes out of the oven moist and flavorful.
1. Choose Your Turkey
A good rule of thumb for choosing the size of your turkey is one pound per person. You'll have a good amount of leftovers, but nobody will be hungering for more.
We suggest using fresh turkeys over frozen ones. Fresh turkeys can be stored in the refrigerator for up to two days before cooking. Make sure that you have room in your refrigerator before you buy it!
2. Season the Turkey
To season the turkey, generously rub your chosen spices all over the outside skin and inner cavity. Paint the outside with vegetable oil or butter and season with salt and pepper.
3. Stuff the Turkey
Next, you'll want to stuff the turkey while the oven is preheating to 325 degrees. Only stuff a fully-thawed turkey, and do not stuff it until you are ready to put the bird in the oven. Do not over-stuff the turkey, as it will not allow all of the stuffing to reach the optimal temperature (165 degrees) that kills bacteria.
4. Cook the Turkey
After stuffing, tie the legs together with string. Place the bird in a large roasting pan, on a rack that will hold the bird a few inches above the bottom of the pan. Cover with aluminum foil. Allow the turkey to cook for 15 to 20 minutes per pound. The internal temperature should read 165 degrees before it is removed from the oven.
Baste the turkey every hour or so with the juices that have gathered in the pan. Within the last 40 minutes of baking, remove the foil to allow the skin to crisp.
5. Let the Turkey Rest
After you pull the turkey out of the oven, let it rest for about a half hour before cutting into it. Make sure that you keep it covered with aluminum foil and it will retain its heat until you're ready to eat!
Here at Salem Cross Inn, we cook a wonderful turkey for our guests, and our Thanksgiving dinner is popular among our customers. You can view our Thanksgiving Day menu here. Next time that you are nervous about cooking for a holiday gathering, consider leaving the cooking up to us. We'd love to host your family for any special occasion. We suggest that our guests make Thanksgiving reservations in September each year to ensure a spot.
---