Blueberry Dessert Recipes
Blueberry season is in full swing right now, so it's time to go down to your local farmers market, or your own blueberry bush, and pick those delicious, ripe berries.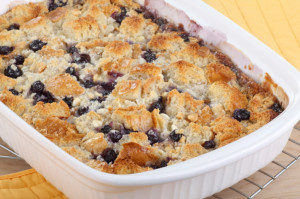 Blueberries are a versatile fruit that taste great alone, in a fruit salad, or in your cereal, but they taste even better in your favorite dessert. The berry's mix of sweet and tart flavors can be incorporated into almost any dessert recipe. Take advantage of this summer fruit while they are fresh to create a savory treat for everyone to enjoy.
Blueberry Drop Cookies
This cookie recipe from All Recipes substitutes blueberries for chocolate chips for a healthier snack. This recipe can make up to four dozen cookies.
Ingredients
2 cups all-purpose flour
2 teaspoons baking powder
1/2 teaspoon salt
1/2 cup shortening
1/4 cup milk
1 egg
1 cup white sugar
1 teaspoon almond extract
1 1/2 teaspoons lemon zest
1 cup fresh blueberries
Directions
1. In a large mixing bowl, cream the shortening, sugar, egg, milk, almond extract and lemon zest. Mix well after the addition of each ingredient. Combine the flour, baking powder and salt; blend into the sugar mixture. Fold in the blueberries. Cover and chill for 4 hours.
2. Preheat oven to 375 degrees F. Drop dough by teaspoonfuls onto ungreased cookie sheets, about 1 1/2 inches apart.
3. Bake 12 to 15 minutes in the preheated oven. Let the cookies cool on the baking sheets for a few minutes before transferring to wire racks to cool completely.
Blueberry Cobbler
Cobbler makes for a great after-dinner dessert. Follow this recipe from Real Simple, and you'll have warm blueberry cobbler in just fifty minutes total.
Ingredients
2 pints blueberries
1/3 cup plus 1/4 cup granulated sugar
1 1/2 cup plus 1 tablespoon all-purpose flour
2 teaspoons baking powder
1/4 teaspoon kosher salt
1 teaspoon grated lemon zest
6 tablespoons cold unsalted butter, cut into pieces
2 cups heavy cream
Directions
1. Heat oven to 375° F. In a shallow 1 1/2-quart baking dish or a 9-inch deep-dish pie plate, toss the blueberries, 1/3 cup sugar, and 1 tablespoon flour.
2. In a medium bowl, combine the baking powder, salt, lemon zest, and the remaining flour and sugar.
3. Add the butter and blend with your fingers or 2 knives until coarse crumbs form. Add 3/4 cup plus 2 tablespoons cream and mix until a shaggy dough forms.
4. Drop mounds of dough over the blueberry mixture. Bake until the berries are bubbling and the top is golden, 35 to 40 minutes. Serve with the remaining cream for drizzling, if desired.
Blueberry Crisp
This recipe from Martha Stewart calls for just a few ingredients and has simple directions. Use dollop of whipped cream or a scoop of vanilla ice cream for some extra sugary sweetness. This recipe can make up to eight servings.
Ingredients
1/2 cup chilled unsalted butter, cut into pieces, plus more for baking dish
8 cups blueberries, washed and drained
1 cup all-purpose flour
1/2 cup granulated sugar
Juice of 1 lemon
3/4 cup dark-brown sugar
Directions
STEP 1 – Preheat oven to 350 degrees. Butter a 2-quart shallow baking dish; set aside. In a medium bowl, toss blueberries with 1/2 cup flour, the granulated sugar, and lemon juice. Spread evenly in prepared baking dish, pressing down lightly.
STEP 2 – In a small bowl, mix together brown sugar and the remaining 1/2 cup flour; add butter. Using your fingertips or a pastry blender, mix the butter into the dry ingredients until it looks like coarse irregular crumbs.
STEP 3 – Spread crumbs over blueberries. Bake for 10 minutes. Reduce the oven temperature to 325 degrees. and bake until the crumbs are browned and the juices have thickened, about one hour. Serve warm.
Blueberry Sherbet
Nothing tastes better in the summer heat than a refreshing sherbet. This recipe from My Recipes is simple to make and it tastes great.
Ingredients
2 cups fresh or frozen blueberries, thawed
1 cup fat-free buttermilk
1/2 cup sugar
1 tablespoon fresh lemon juice
1/2 teaspoon vanilla extract
Garnish: fresh mint sprig
Preparation
1. Process first 5 ingredients in a blender until smooth. Pour into a 9-inch square pan; cover and freeze 4 hours or until firm.
2. Process frozen mixture, in batches, in a blender until smooth. Cover and freeze 4 hours or until frozen. Garnish, if desired.
Coconut-Blueberry Cheesecake Bars
This dessert is great to bring to a family party or cookout. This recipe from Better Homes and Gardens makes 32 servings and only takes thirty minutes to make, then is chilled until cool.
Ingredients
1/2 cup butter
3/4 cup finely crushed graham crackers
1/2 cup all-purpose flour
1/2 cup flaked coconut
1/2 cup ground pecans
1/4 cup sugar
1 1/2 8 ounce package cream cheese softened
2/3 cup sugar
4 eggs
1 tablespoon brandy or milk
1 teaspoon vanilla
2 cups blueberries
Directions
1. Preheat oven to 350 degrees F. Lightly grease a 13x9x2-inch baking pan; set aside.
2. For crust, in a small saucepan heat butter over medium heat until the color of light brown sugar. Remove from heat; set aside.
3. In medium bowl stir together graham crackers, flour, coconut, pecans, and 1/4 cup sugar. Stir in butter until combined. Evenly press on bottom of prepared pan. Bake 8 to 10 minutes or until lightly browned.
4. Meanwhile, in large mixing bowl beat cream cheese and 2/3 cup sugar on medium until combined. Add eggs, brandy, and vanilla. Beat until combined. Pour over hot crust. Sprinkle with blueberries.
5. Bake 18 to 20 minutes or until center appears set. Cool in pan on rack. Cover and refrigerate. Cut into bars. Store, covered, in refrigerator. Makes about 32 bars.
These blueberry dessert recipes are an easy way to add something sweet to your diet. With the fresh berries ripening as we speak, now is the best time to create your own blueberry dessert.
If you're looking to enjoy other meals with fresh seasonal ingredients, then visit the Salem Cross Inn, located in West Brookfield, MA. We use the bounty from our gardens to prepare what we offer on our lunch and dinner menus. If you're looking for something sweet after dinner, try one of our delicious homemade desserts.
---