7 Summer Table Setting Ideas
If you're planning to have one more outdoor party before the summer ends, or perhaps you're planning a summertime wedding, these summer-themed table setting ideas are just what you need.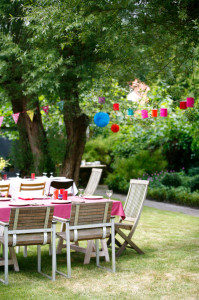 Table settings form the theme for your entire party and enhance the experience. The following are seven ideas for new ways to decorate the table for your next get-together.
1. Color-Themed
One great way to create a theme for your table setting is to pick a main color and then build off that color for the rest of the table. For example, if you choose the color blue, choose a striped blue tablecloth and plates that are a coordinating blue color. For the centerpieces, buy cheap vases and fill them with blue colored marbles. For the summertime, any light or bright color will work for this adorable table setting.
2. Island Oasis
If you want to give your guests an island vibe, pick tropical colors for your tablecloth and plate arrangement. Covering the table with an umbrella will give an island feel, as well as keep your guests out of the hot summer sun. Hanging lanterns from the inside of your umbrella will fit in perfectly with the theme and will also help illuminate the area when it gets dark. For the finishing touch, decorate the table with citronella candles and other colorful tea lights; these will keep away the bugs and give the table warmth.
3. Keep it Natural
If you are an outdoorsy person, then you will love this idea. Choose a wooden table and wicker chairs. This gives a natural theme to the table. For the centerpiece, use a wicker basket filled with fruit. This serves as both a centerpiece and a place where your guests can pick up a fresh orange to eat before or after dinner. Make place cards out of things you can gather outdoors, such as leaves or branches.
4. Use the Trees
Having a lot of shade in your yard is actually perfect for this table setting theme. Place a table under a tree with mismatched chairs and old china. This gives your party an informal and relaxed vibe. This is the perfect laid-back setting for a summer party.
5. Lemons and Sunflowers
Two things that signify summer are lemons and sunflowers. Use the color yellow as your theme for this table setting. Use bunches of sunflowers as centerpieces and lemons as place cards by writing your guests' name on the outside of the peel. Serving lemonade is another way to feed in to this adorable and simple theme.
6. Beach Themed
The beach theme can be an inexpensive way to decorate your table. An ocean-themed table setting consists of a lot of blue colors, as well as lots of seashells. The seashells can function as flower vases, centerpieces, and even place setting embellishments. Serve finger food in plastic beach buckets.
7. Country Living
If your house is located near or on a farm, then this is a simple idea that you will love. Instead of using folding chairs, surround your table with hay bales for a unique country feel. Decorate the table with freshly picked flowers and simple white plates. Use mason jars instead of regular glassware.
These table-setting ideas cover all the bases when it comes to your next outdoor party, or even your summer wedding. From beach theme to country living, you have many options to fit your personal tastes.
Here at Salem Cross Inn, our table settings are simple and welcoming. We invite you to come in to eat some delicious, locally-sourced food and maybe even get some inspiration for your next party (or wedding). We hope to see you soon!
---