Zucchini and Squash Recipes for When Your Garden Produces an Overabundance
Gardeners know this all too well; towards the end of the summer the summer squash plants begin producing, and before you know it, you have more massive squash and zucchini than you could possibly use.You might try to pawn some off on the neighbors, but chances are they are also dealing with an abundance of squash.
Fortunately, there are a number of great recipes that will help you consume these veggies without getting sick of them. Zucchini and yellow squash are not just for dinner anymore!
Tomato and Zucchini Frittata
Zucchini is a great breakfast ingredient too. Try on this frittata from Skinny Taste on for size.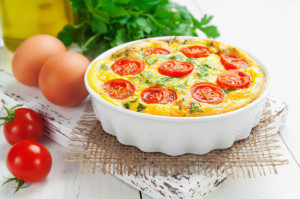 Ingredients:
2 tsp olive oil
1 medium onion, diced
1-1/2 cups (7 oz) zucchini, diced into matchsticks
4 large eggs
4 large egg whites
1/4 cup Asiago cheese, grated
salt and fresh pepper
2 medium (about 8 oz) vine ripe tomatoes, cored and thinly sliced crosswise
Directions:
Preheat oven to 400°F.
Heat oil in a 10-inch skillet over medium-low heat. Stir in onion and cook until slightly golden, about 8 to 10 minutes. Add zucchini, increase heat to medium-high, season with salt and pepper and cook 2 to 3 minutes or until the moisture dries up, stirring occasionally.
In a medium bowl whisk eggs, egg whites, Asiago, salt and pepper.
Pour the eggs into the skillet making sure they cover all the vegetables. Arrange tomatoes in an overlapping pattern on top and season with salt and pepper. When the edges begin to set (about 2 minutes) move skillet to oven. Cook about 16 to 18 minutes, or until frittata is completely cooked. Serve warm, cut into 4 pieces.
Panko and Parmesan Zucchini Fritters
Instead of simply sautéing or grilling your squash, make these fritters from The Patchy Lawn as an appetizer or side dish.
Ingredients
1½- 2 lbs zucchini, grated
¼ medium yellow onion, grated
1 tsp salt, plus more for sprinkling
¼ cup flour
¼ cup panko bread crumbs
¼ cup parmesan cheese, grated
1 egg
2 clover of garlic, minced
1 Tbs parsley chopped (or other fresh herbs)
Black pepper
Oil for frying
Instructions
Place grated zucchini, onion and salt in a colander over a bowl and allow liquid to drain for 10 -60 minutes.
Squeeze liquid from the zucchini and onion by wrapping in a towel and gently pressing.
Mix flour, panko, cheese, egg, garlic, parsley and a little black pepper in a bowl.
Mix in the zucchini and onion, stir until well combined.
Heat a skillet with 3-4 Tbs of frying oil.
Shape small patties of the zucchini mixture, fry on both sides for a few minutes, until golden brown.
Remove from pan and allow to rest on paper or cloth, sprinkle with salt immediately.
Serve warm and enjoy!
Ratatouille Casserole
When it comes to dinner, ratatoullie is an excellent choice because not only is it easy to make, but it also helps you use up your yellow squash and zucchini. The most time you'll spend on this recipe from Real Food Nuts is chopping up your veggies.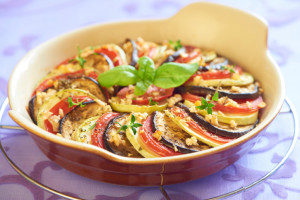 Ingredients
1 six-ounce can tomato paste *
1/2 onion, chopped
2 tablespoons minced garlic (garlic lovers can add another tablespoon!)
4 tablespoons olive oil (divided)
3/4 cup water
1 small eggplant, thinly sliced **
1 zucchini, thinly sliced
1 yellow squash, thinly sliced
2 bell peppers, thinly sliced (we recommend one red and one yellow)
1 teaspoon fresh thyme leaves (can substitute basil leaves)
Salt and pepper to taste
Directions
Preheat oven to 375 degrees F.
Place a skillet over medium heat and add the chopped onion, sautéing the onion until tender and translucent (only a few minutes). Then, add the garlic and sauté for another minute. Remove the skillet from the heat and set aside.
Get a 10×10-inch baking dish and lightly grease with cooking spray. Mix the tomato paste, sautéed onion and garlic, water, and one tablespoon of olive oil together in a bowl until everything is thoroughly combined. Season with salt and pepper to taste, and then spread this mixture along the bottom of the dish.
Toss sliced vegetables in a bit of olive oil, just enough to very lightly coat them.
Take the thinly sliced eggplant, zucchini, squash, and peppers and begin arranging them along the outer edge of the dish – alternating between vegetables. You'll follow the outer edge of the dish and then work in a circle toward the middle, until you get to the center.
Finish by drizzling the top of the vegetables with two tablespoons of olive oil and adding salt and pepper to taste. Then, sprinkle the top with thyme leaves.
Cover the dish with a piece of parchment paper, trimmed enough to fit inside the dish and cover the vegetables.
Bake until the vegetables are tender and fully roasted, about 45 minutes.
Enjoy!
Zucchini Pineapple Bread Recipe
When your family is tired of eating squash every night, this zucchini bread recipe from Taste of Home is just the remedy. Your family won't even realize that they're getting a serving of vegetables when they chow down on this yummy bread. Serve for dessert or as an afternoon snack!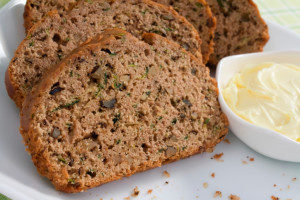 Ingredients
3 eggs
2 cups finely shredded zucchini
1 cup vegetable oil
1 can (8 ounces) crushed pineapple, drained
2 teaspoons vanilla extract
3 cups all-purpose flour
2 cups sugar
2 teaspoons baking soda
1-1/2 teaspoons ground cinnamon
1 teaspoon salt
3/4 teaspoon ground nutmeg
1/2 teaspoon baking powder
1 cup chopped nuts
1 cup raisins, optional
Directions
In a large bowl, combine the eggs, zucchini, oil, pineapple and vanilla. Combine the dry ingredients; stir into egg mixture just until moistened. Fold in nuts and raisins if desired.
Pour into two greased 8-in. x 4-in. loaf pans. Bake at 350° for 50-60 minutes or until a toothpick inserted near the center comes out clean. Cool for 10 minutes before removing from pans to wire racks to cool. Yield: 2 loaves.
Summer squash is such a great vegetable to cook with, and now with these recipes, you'll be able to truly use them in every meal of the day! Don't let your zucchini or yellow squash go to waste this year.
Here at Salem Cross Inn, we love cooking with garden-fresh ingredients. We use produce right from our own gardens, just steps from our kitchen. When we need to supplement, we support local growers so you can be sure that what you're eating at Salem Cross Inn is as fresh as it can be! We invite you to come try our tasty dishes for yourself! Make your reservation today.
---