Your New Favorite Pumpkin Dessert Recipes
By far the best-known pumpkin dessert, pumpkin pie gets a lot of attention this time of year. (With good reason, no doubt.) While we give praise to this traditional favorite, there are so many other pumpkin recipes that will impress guests and delight taste buds.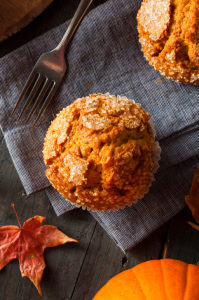 Making desserts with fresh pumpkin is the best way to add a homemade touch to a favorite treat. Even if you're not the best baker, these are recipes you can follow along with and achieve with relative ease.
Here are two easy-to-follow pumpkin recipes worth smiling about this holiday season, courtesy of Salem Cross Inn Restaurant and Tavern.
Pumpkin Muffins
2 cups pumpkin, washed, peeled, and ground
5 large eggs
4 cups all-purpose flour
2 1/2 cups sugar
1 ½ tsp. baking soda
1 ½ tsp. baking powder
1 ½ tsp. cinnamon
1 ½ tsp. nutmeg
1 cup vegetable oil
Apple cider, if necessary
1 tsp. vanilla
Mix together the pumpkin, eggs, and sugar. In a separate bowl, combine the flour, baking soda, baking powder, cinnamon, and nutmeg. Add to the squash mixture. Add the oil and mix well. The batter should be loose and somewhat soupy. If there is not enough moisture in the pumpkin, add the cider. Add the vanilla. Spoon into lightly greased muffin tins, filling them about 2/3 full. Bake at 350 degrees for 20 minutes.
Makes 2 dozen muffins.
Our pumpkin cheesecake recipe is easier than it seems, and the finished product is a real joy to serve (and eat!). With a foundation of graham cracker crust, creamy layers of pumpkin are topped with something a bit more festive than whipped cream – a rich, flavorful maple pecan sauce.
Broaden your scope of delicious with this light and fluffy alternative.
Maple Pumpkin Cheesecake
Crust
¼ cups graham cracker crumbs
¼ cup sugar
¼ cup butter or margarine, melted
Filling
3 (8 ounce) packages cream cheese, softened
1 (14 ounce) can sweetened condensed milk (NOT evaporated)
1 (15 ounce) can pumpkin (about 1 ¾ cups)
3 eggs
¼ cup pure maple syrup
1 ½ tsp ground cinnamon
1 tsp nutmeg
½ tsp salt
Preheat oven to 325 degrees. Combine crumbs, sugar and butter and press firmly on bottom of a 9-inch spring form pan. Beat cream cheese until fluffy. Gradually add the condensed milk and beat until smooth. Add the pumpkin, eggs, syrup, cinnamon, nutmeg and salt and mix well. Pour onto prepared crust. Bake 1 ¼ hours or until center is almost set when shaken. Cool 1 hour. Cover and chill at least 4 hours.
Maple Pecan Sauce
In medium-sized saucepan, combine 1 cup of whipping cream and ¾ cup pure maple syrup and bring to a boil. Boil rapidly 15-20 minutes or until slightly thickened, stirring occasionally. Stir in ¼ cup chopped pecans. Cover and chill until served. Stir before serving.
Celebrate pumpkin season by serving this year's hit desserts to your guests and loved ones. Everyone at your dinner table will rave, and surely ask for seconds.
If you'd rather leave the cooking to someone else this year, Salem Cross Inn is home to many seasonal and special celebrations and dining events throughout the year. Join us for Thanksgiving, a special Fireplace Feast, and create Christmas Memories that you and your family will cherish forever.
---