Something Old, Something New: The History Behind Wedding Traditions
We've all heard it before, "Something old, something new, something borrowed, something blue, and a silver sixpence in her shoe", but where did these common wedding traditions come from?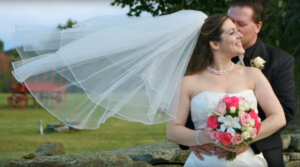 If you've ever been to a wedding, chances are that you have witnessed historic wedding traditions that have been passed down through the generations. Sure, there are plenty of things that occur at most weddings (such as throwing the bridal bouquet) that you may have already known were common traditions to see at weddings, but there are plenty of others that you may have never thought of!
How many of these wedding traditions do you know the origins of?
The Phrase "Let's Tie the Knot"
"Tying the knot" came from an old Renaissance ceremony called "handfasting". Common today in Pagan weddings, a handfasting ceremony involves tying a couple's hands together with ribbon to symbolize the formal promise and contract they have made between one another.
Something old, Something new
This tradition dates back to Victorian times, and today you will find that many brides try their best to arrange their wedding attire according to these guidelines. Something old is representative of the link between the bride's family and her past, while something new is representative of a good future with her new family. Something borrowed is customarily mean to be an item shared from a successfully married wife, as a way to pass on a bit of good fortune to the new couple. Something blue represents faithfulness and loyalty, while "A silver sixpence in her shoe" was traditionally meant as a way for the bride to (quite literally!) carry good fortune and wealth into the marriage.
A White Wedding Dress
Believe it or not, there was a time when white wedding dresses were not the norm. It was Queen Victoria who made the white wedding dress popular. When she walked down the aisle in 1840, she worn a pale gown decorated with orange blossoms. Not long after her marriage to Prince Albert, many of her fans began to copy her, and the white wedding dress tradition was born. Today, it is not unheard of for a bride to have a wedding dress that is not white, but an entirely different color all together. In the recent years, wedding dresses of pale pinks, blues, reds and even purples have become popular.
Honeymoons
The act of going on a honeymoon is a fairly ancient practice. Historically, the bride and groom would drink honey wine for one month, or one full moon cycle. This practice soon became known as the "honey moon." While the name has survived, the meaning has changed significantly as in today's culture, a honeymoon is typically considered to be a type of extended vacation. Today, the word "honeymoon" can describe the retreat a couple typically takes after their wedding, but it has also become a popular phrase that is used to describe the early, blissful time in a relationship.
Are you planning on "tying the knot"? For more information about weddings at Salem Cross Inn in beautiful West Brookfield, Massachusetts, visit our website. Or, if you are interested in learning more fun historic facts and folklore, be sure to check out our blog, "Good Reading".
---