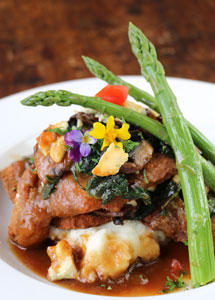 Dinner Menu
It was a great season of deliciously fresh vegetables and herbs from our gardens. Now we look forward to root vegetables and winter squash while we're planning spring's harvest. We can't wait to see those seedlings pushing through dark soil again. But, now the chill in the air turns our minds to warming ourselves by the fireplaces and enjoying some hearty New England fare! Here's to changing seasons!
View our Printable Menu Here.
Before placing your order, please inform your server if a person in your party has a food allergy.