Fun Mimosa Recipes to Kickstart Your Brunch
With Easter around the corner, brunch plans are on everyone's mind. Brunch is definitely one of the best meals of the day, because not only does it involves tasty breakfast treats like bacon and pancakes, but it also allows for a great combination of sweet and savory… plus, it is totally acceptable to drink cocktails during brunchtime.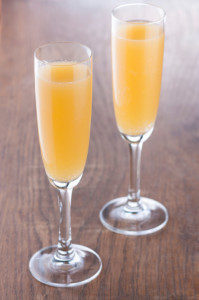 One of the most popular cocktails to drink during brunch is the mimosa. Typically made from a combination of orange juice and champagne, a brunch is barely complete without mimosas.Here are a few unique mimosa recipes that you can make for your own Easter brunch this year. Consider making a mimosa bar with all of these ingredients to provide extra fun for your (adult) guests!
Blood Orange Mimosa
While still close to the original mimosa, a blood orange mimosa will taste fresher, be slightly less sweet (which can be a good thing if you're pairing it with brunch foods like pancakes and waffles!), and will be a pretty, deep pink color. To make a blood orange mimosa, you will need three blood oranges for every bottle of champagne. Combine and serve in champagne flutes, with slices of blood orange for garnish.
Creamsicle Mimosa
Hail back to a favorite childhood treat with this adult drink from How Sweet It Is.
Creamsicle Mimosas
makes 4 mimosas
3/4 cup orange juice
2 ounces marshmallow vodka
1 bottle of champagne (you will have some left over)
whipped cream + crystal sprinkles for garnish
Combine orange juice and vodka into a measure cup. Pour about 1/4 of a cup into each glass, then fill the remaining space with champagne. Top with a squirt of whipped cream and crystal sprinkles.
Note: you can sub in vanilla or cake vodka for marshmallow.
Bellini
The bellini is much like a mimosa, except it calls for Prosecco instead of champagne, and instead of orange juice, you use peach puree. You can make your own peach puree by boiling peach slices until tender and then putting them in the blender, or you can find it pre-made at your local grocery or liquor store.
Strawberry, Lemon and Basil Mimosa
Easter is the perfect time to celebrate the spring, and why not do so with strawberries, which you may be seeing pop up in your garden soon! Here is a delicious recipe from Food Network star Giada de Laurentiis.
ingredients
4 to 6 serving
Strawberry, Lemon and Basil Mimosa
¾ cup packed fresh basil
½ cup fresh lemon juice (from 2 large lemons)
½ cup agave or honey
8 medium fresh or frozen and thawed strawberries, sliced
1 (750ml bottle) Prosecco, chilled
½ cup soda water or sparkling water, chilled
instructions
Strawberry, Lemon and Basil Mimosa
In a pitcher, combine the basil, lemon juice and agave. Using a wooden spoon, lightly crush the basil. Stir in the strawberries, Prosecco and water. Pour into chilled champagne glasses and serve.
If you love brunch, you will definitely love holiday at the Salem Cross Inn! We offer brunch for Easter and Mother's Day, which usually includes a specialty mimosa. We invite you to come spend the holidays celebrating with us. Make your reservation today!
---