Apple Dessert Recipes
Autumn is a beautiful time of year.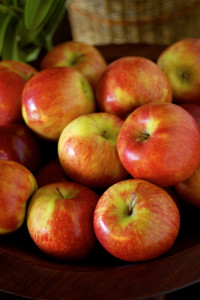 The leaves change color, the air becomes brisk, and there is a rather comforting smell of wood stoves in the neighborhood.But most importantly, apples are in season, which means the apple dessert recipes move to the front of the recipe box!  Apples are incredibly versatile and can be cooked into a variety of apple desserts. Sitting in the house enjoying a nice warm apple treat is surely a proper way to sweeten the season. These apple dessert recipes are easy to follow as well as to cook.
Caramel apples are among the county fair season, and are surprisingly easy to make! The following recipe from Taste of Home outlines how make your own authentic caramel apples.
Carnival Style Caramel Apples
Ingredients:
1/2 cup butter, cubed
2 cups packed brown sugar 1 cup light corn syrup Dash salt
1 can (14 ounces) sweetened condensed milk
1 teaspoon vanilla extract
10 to 12 Popsicle sticks
10 to 12 medium tart apples, washed and dried
1 cup salted peanuts, chopped
Directions:
In a large heavy saucepan, melt butter; add the brown sugar, corn syrup and salt. Cook and stir over medium heat until mixture comes to a boil, about 10-12 minutes. Stir in milk. Cook and stir until a candy thermometer reads 248° (firm-ball stage). Remove from the heat; stir in vanilla.
Insert Popsicle sticks into apples. Dip each apple into hot caramel mixture; turn to coat. Dip bottom of apples into peanuts. Place on greased waxed paper until set. Yield: 10-12 apples.

Who doesn't love a warm apple crisp? We are especially fond of apple crisp when it's served with vanilla ice cream melting on top. Moms Who Think provided this apple dessert recipe.
Apple Crisp

Ingredients:

5-6 apples
1/8 teaspoon salt
1 cup uncooked oatmeal
1/3 cup butter
3/4 cup brown sugar
cinnamon
1/2 cup flour
white sugar

Directions: Slice apples in baking dish (peeled or unpeeled).
Sprinkle cinnamon and white sugar over apples.
Mix remaining ingredients with a fork and sprinkle on apples.
Bake at 350 degrees F for 35 minutes.
Baked apples are perfect for those times that you are craving an apple treat, but don't feel like taking the time to make a pie. This simple recipe comes from Simply Recipes.
Baked Apples

Ingredients: 4 large apples
¼ cup brown sugar
1 teaspoon cinnamon
¼ cup chopped pecans
¼ cup currants or chopped raisins
1 tbsp. butter
¾ cup boiling water

Directions: Preheat oven to 375°F. Wash apples. Remove cores to 1/2 inch of the bottom of the apples. It helps if you have an apple corer, but if not, you can use a paring knife to cut out first the stem area, and then the core. Use a spoon to dig out the seeds. Make the holes about 3/4-inch to an inch wide.

In a small bowl, combine the sugar, cinnamon, currants/raisins, and pecans. Place apples in an 8-inch-by-8-inch square baking pan. Stuff each apple with this mixture. Top with a dot of butter (1/4 of the Tbsp.).

Add boiling water to the baking pan. Bake 30-40 minutes, until tender, but not mushy. Remove from the oven and baste the apples several times with the pan juices.

Serve warm with vanilla ice cream on the side. Serves 4 people
Mulled apple cider is perfect for a Thanksgiving or other holiday gathering. As the weather continues to cool off, this recipe for hot apple cider from Simply Recipes will keep your insides nice and warm.
Mulled Apple Cider

Ingredients:

½ gallon of fresh, unfiltered cider
1 orange
15 cloves
4 3 inch sticks of cinnamon
15 allspice berries
1 Tsp. of nutmeg
7 pods of cardamom
¼ cup brown sugar

Directions:

Pour apple cider into a 3-quart saucepan, cover, turn the heat on medium-high. While cider is heating up, take a vegetable peeler and peel away a couple thick strips of peel from the orange. Press about half of the cloves into the peeled part of the orange. (You can also just quarter the orange and add the slices and cloves separately. I just like seeing the orange bob up and down.) Place orange, orange peel strips, the remaining cloves, and the rest of the ingredients into the sauce pan with the cider. Keep covered and heat the mulled cider mixture to a simmer and reduce heat to low. Simmer for 20 minutes on low heat.

Use a fine mesh sieve to strain the hot mulled cider away from the orange, cloves, and other spices. If you want, you can add a touch of bourbon, brandy, or rum to spike it up a bit. Serve hot. Add a cinnamon stick to each cup if desired. Makes 8 cups.
Apple streusel is similar to an apple pie, but without all the mess of baking a crust. This recipe from Food.com is sure to impress any dinner guest.
Apple Streusel

Ingredients:3 large fall apples (Cortland or McIntosh are both great)
1/2 cup sugar
1 teaspoon cinnamon
1/4 teaspoon pure vanilla extract
Topping
1/4 cup cold butter (4 Tbs. or 1/4 cup)
1/2 cup flour
1/3 cup sugar
1/2 teaspoon cinnamon
1/8 teaspoon ground nutmeg (optional)

Directions:

Preheat oven to 350°.

Grease the bottom only of a small (4 cups or so) casserole dish. Peel and core the apples, slice and place in a bowl. Top with sugar, cinnamon and vanilla, toss to coat. Set aside while preparing topping.

Make the streusel by cutting the cold butter into a bowl, adding flour, sugar, cinnamon, and nutmeg, if using. Rub it through your fingers until the streusel is a coarse, sandy/pebbly texture.

Put the seasoned apples into the pan, top generously with the streusel, and bake at 350° about 30 minutes, or until the streusel is golden brown and the apple is starting to bubble up through the topping. Serves 3-4 people.
These apple dessert recipes are an easy way to impress your friends without burdening yourself with a great amount of work and preparation. Enjoying these apple dessert recipes with your friends or family creates a cozy social experience, especially when the temperatures get a little chilly. If you want to get the same homey feeling away from the house, visit the Salem Cross Inn located in West Brookfield. Our lunch and dinner menus will surely exceed your expectations, while providing a friendly colonial New England experience. Hopefully you can add these apple dessert recipes to your baking repertoire. Do you think you will try these treats now that it is apple season?
---